Description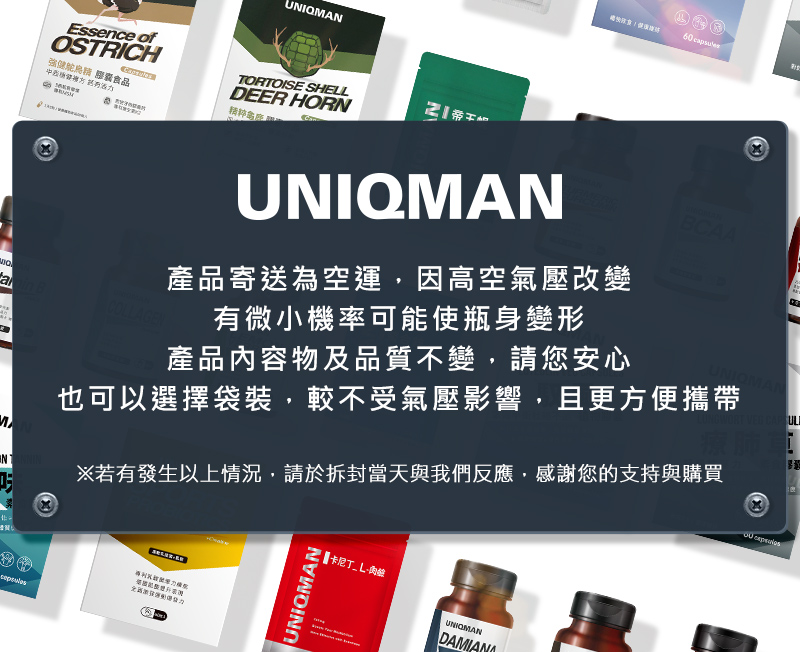 UNIQMAN King Clam Capsules【Liver Protection】
Description:
*King Clam, also known as the king of shellfish, has a very high nutritional value
  -The protein contained is rated as "perfect protein" by the United Nations
*Golden carp, from pure and pollution-free Hualien, rich in amino acids, zinc, calcium, taurine, etc.
  -Maintains health and replenish energy
*Additional vitamin B complex, taurine, chelated zinc:
  -Maintain normal energy metabolism and keep vitality and strength
*Who needs this?
  -Work overtime  
  -Inefficiency  
  -Night shift   
  -Work labor
Main Ingredients(Per serving):
Golden freshwater clam Extract (Corbicula fluminea) 350mg
Gold King clam Extract 50mg
Taurine 100mg
Choline (as Choline Bitartrate) 8.4mg
Directions:
Take 1 capsule daily after meal. For better result, take 2 capsules at once. Do NOT take more than 2 capsules per day.