Description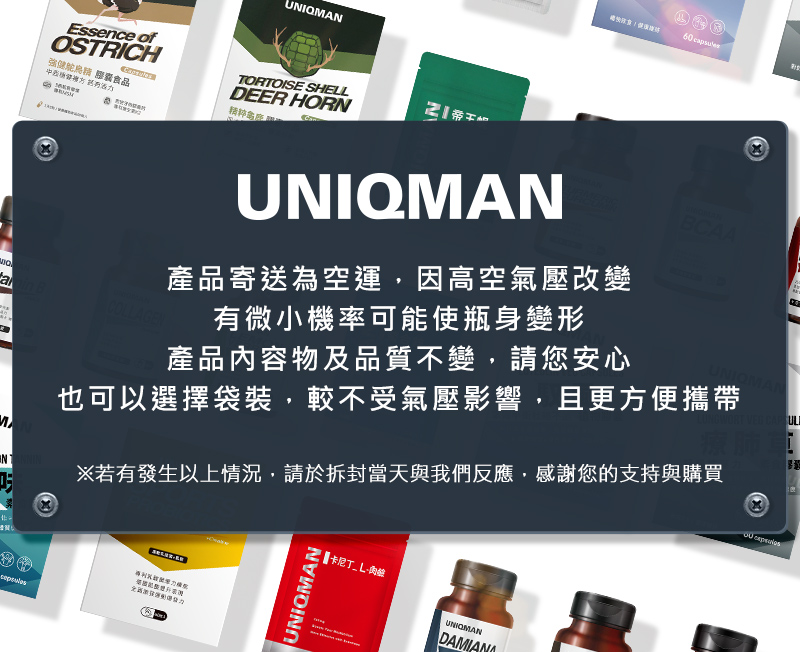 UNIQMAN L-Arginine Veg + Damiana Veg【Promote Stamina】
【L-Arginine】
Descriptions:
*L-Arginine is an amino acid that helps to form proteins
*It changes into nitric oxide (NO) with helps erection, supports sex performance and extends sexual time as well
*High purity & natural resources & sufficient dose
*There are several successful cases and positive feedback from our customers at which their sexual endurance have been improved after consuming our L-Arginine capsules
Main Ingredients (Per serving):
L-Arginine 1080mg
Directions:
Take 2 capsules at once on an empty stomach. For better result, recommended 3 capsules after breakfast and dinner.
【Damiana】
A big moment to create a satisfying sexual experience!
*Damiana is a kind of wild shrub that grows in Mexico and Central America. 
*Mostly used to increase sexual desire. We add some other nutrients into it to give you a better experience
*Contains multiple nutrients and strives with full vitality
*Ginseng which contains saponin is used to nourish vitality
*Chelated Zinc helps to maintain optimal metabolism, improve growth and reproductive function
*L-Arginine is a precious amino acid supplement to produce nitric oxide, helps to promote metabolism and enhance physical strength
Main Ingredients (Per serving):
Damiana Extract (Leaf) 200mg,
Panax Ginseng Extract (Root) 50mg
Directions:
Take 1 capsules daily after meal. For better result, take 2 capsules at once. Do NOT take more than 2 capsules per day.