Description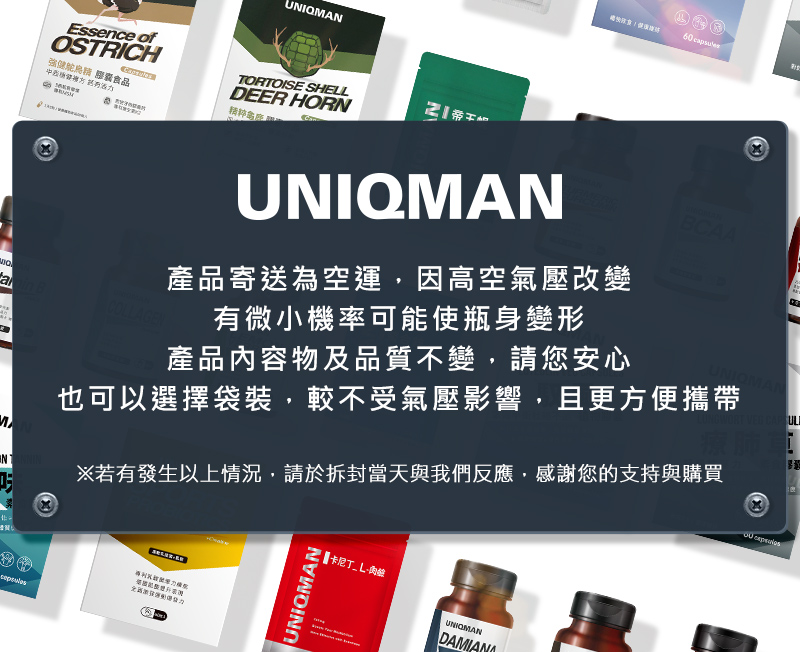 UNIQMAN Chelated Zinc Veg + Damiana Veg【Boost Libido】
【Chelated Zinc】
*We need Zinc to have happy sex life
*Up to 95% of chelated zinc with high absorption is utilized 
*Assists in increasing semen fertility, boosts energy metabolism and improves erectile difficulty
*Zinc may also enhance libido, increase energy stamina and sexual endurance
*Vitamin B complex and vitamin C are added
Main Ingredients (Per serving):
Chelated zinc 150mg (containing zinc 30mg), vitamin C 100mg
Directions:
Take 1 capsule daily after meal. Please do NOT take more than 1 capsule per day.
【Damiana】
A big moment to create a satisfying sexual experience!
*Damiana is a kind of wild shrub that grows in Mexico and Central America. 
*Mostly used to increase sexual desire. We add some other nutrients into it to give you a better experience
*Contains multiple nutrients and strives with full vitality
*Ginseng which contains saponin is used to nourish vitality
*Chelated Zinc helps to maintain optimal metabolism, improve growth and reproductive function
*L-Arginine is a precious amino acid supplement to produce nitric oxide, helps to promote metabolism and enhance physical strength
Main Ingredients (Per serving):
Damiana Extract (Leaf) 200mg,
Panax Ginseng Extract (Root) 50mg
Directions:
Take 1 capsules daily after meal. For better result, take 2 capsules at once. Do NOT take more than 2 capsules per day.